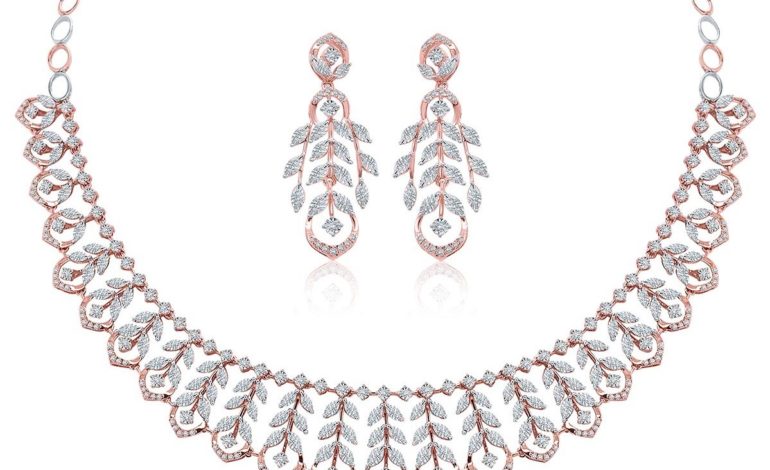 Necklace Set Wear Ideas for the Festive Season in India
India is a land of diverse cultures and traditions, and it's no surprise that the country boasts a vibrant and colorful festive calendar throughout the year. From Diwali and Eid to Durga Puja and Navratri, Indians love to celebrate in style. One essential element of dressing up for these festivities is a stunning diamond necklace set that complements the traditional attire.
Traditional Elegance with Kundan Sets
These sets are the epitome of traditional elegance. These sets typically feature intricate, uncut gemstones set in gold or silver. For festivals like Diwali or Eid, consider adorning this with a matching pair of earrings.
Glamorous Polki Sets for Grand Celebrations
Polki jewelry, known for its dazzling and uncut diamonds, is ideal for grand festive occasions. Pair a Polki necklace set with a richly embroidered lehenga or a designer saree for a regal look.
Temple Jewelry for South Indian Festivals
In South India, temple jewelry is a beloved choice for festivals like Pongal, Onam, and Ugadi. Characterized by intricate motifs of deities and nature, temple jewelry sets often feature gold or gold-plated designs.
Contemporary Fusion with Meenakari Sets
For those who prefer a blend of tradition and modernity, they are an excellent choice. These sets incorporate vibrant enamel work, adding a pop of color to your festive attire.
Exquisite Jadau Sets for Royal Splendor
It is known for its exquisite craftsmanship and intricate detailing. Originating from Rajasthan, they are perfect for celebrating festivals with royal splendor. Pair a Jadau necklace set with a royal blue lehenga or a rich velvet saree to capture the essence of Rajputana elegance.
Classic Pearls for Timeless Grace
Pearls have a timeless appeal and can be worn with a variety of traditional outfits. A string of pearls or a pearl necklace set complements the simplicity and grace of a white or pastel-colored saree, making it an ideal choice for festivals like Raksha Bandhan or Karva Chauth.
Statement Choker Sets for a Bold Look
If you want to make a bold statement, consider donning a statement choker necklace set. Chokers are back in vogue and work well with contemporary ethnic wear like crop top lehengas and dhoti pants. These sets can add a touch of glamour to your festive look for occasions like Navratri or Dussehra.
Antique Jewelry for Vintage Charm
They offer a unique vintage charm that is perfect for festivals with a historical significance, such as Rann Utsav in Gujarat. These sets often feature oxidized metalwork with intricate designs that transport you back in time.
Floral Jewelry for a Fresh Look
For a fresh and youthful appearance, consider floral necklace sets made from fabric, clay, or real flowers. These sets are perfect for celebrating festivals like Baisakhi or Pohela Boishakh and add a touch of nature's beauty to your ensemble.
Jewelry Sets Inspired by Festivals
Embrace the spirit of the festival by wearing jewelry inspired by the occasion. For instance, during Diwali, choose necklace sets adorned with tiny diya (lamp) motifs, or during Navratri, opt for sets with miniature garba and dandiya designs. These thematic jewelry pieces add a personal touch to your festive look and show your enthusiasm for the celebration.
Layered Necklaces for Bohemian Vibes
For those who lean towards a bohemian style, layered necklaces are a fantastic choice. Mix and match different necklace styles, lengths, and materials to create a unique and free-spirited look. The latest diamond Mangalsutra designs go well with fusion outfits and can be an excellent choice for music festivals or contemporary Diwali parties.
Family Heirlooms for Sentimental Value
The festive season is an excellent time to wear family heirlooms. Vintage necklace sets passed down through generations carry sentimental value and can make the celebrations even more special. Be sure to have these heirlooms cleaned and polished to regain their former glory.
Layering with Long Necklaces
Long necklaces, also known as sautoirs, are versatile pieces that can be layered or worn individually. During festivals like Eid, layering long necklaces with different lengths and designs can create a stunning and chic look. Long necklaces are also great for adding a touch of glamour to sarees and anarkalis.
Summing Up
The festive season in India is a time to celebrate traditions, culture, and the joy of being together with loved ones. Choosing the right necklace set can elevate your festive look, allowing you to embrace the spirit of the occasion with style and grace. Whether you prefer the regal appeal of Polki jewelry, the timeless elegance of pearls, or the contemporary fusion of Meenakari sets, there's a perfect necklace set waiting to adorn you during the festive season.